EcoQuip 2 EQ200t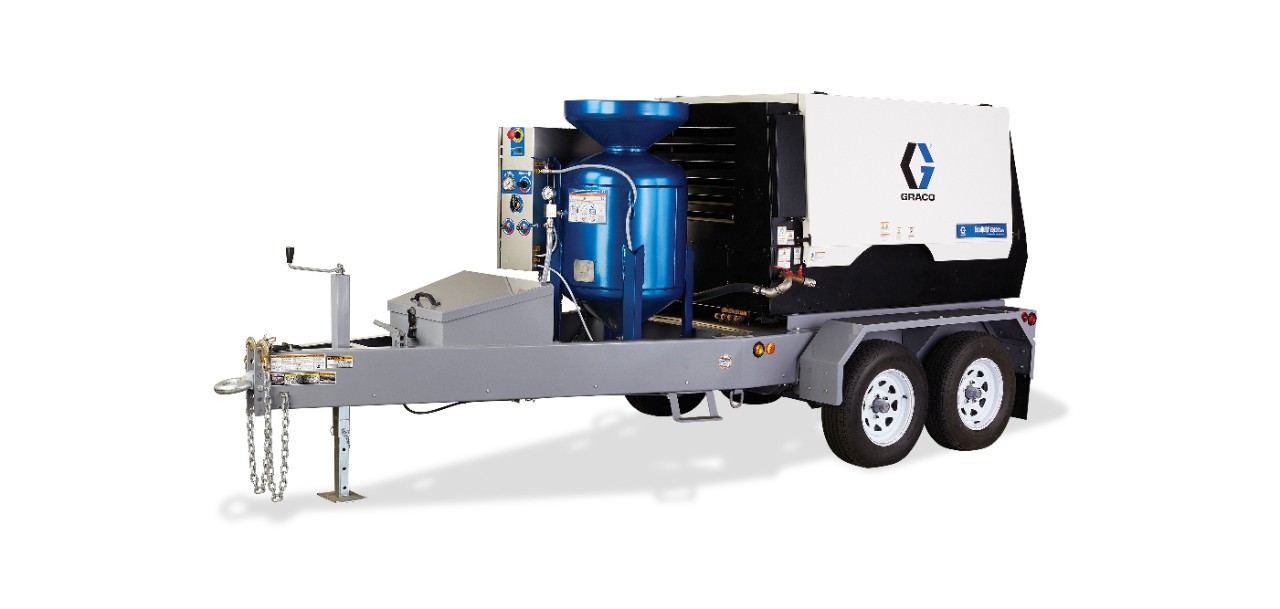 Towable self-contained abrasive blaster
Self-contained blasting trailer with 200 CFM @ 100 PSI compressor
Designed for mid to high production projects, the EQ200t mobile vapor abrasive blasting equipment is self-contained with trailer, engine, and 200 CFM @ 100 PSI compressor, making it ready to go. The EQ200t is easy to haul and its compact design is easy to maneuver at the jobsite. Graco's blasting equipment is rugged and built to withstand the most challenging conditions.
Features and Benefits
Comes equipped with a 200 CFM compressor @ 100 PSI
Provides 50 percent more useable capacity than original EcoQuip
Redesigned controls for easier operation
New abrasive meter and MediaTrak for easy monitoring of media consumption
Improved media loading and handling
Vapor Abrasive Blasting: A cleaner, easier path to profitable results
Generates less dust - 92% less airborne dust than dry blasting
Uses less water than traditional water-based wet blasting
Optimizes air, water and media ratio – resulting in a fine mist with a blast that is powerful, but with less dust
Uses less media than wet blasting, so clean up is minimal* and you save on media costs
Model/Part No. - EQ200t

Maximum Working Pressure
125 psi
Operating Temperature
35 - 110 F
Blast Hose Size(supplied)
1.25" ID
Abrasive Capacity*
880 lb
Dry Weight
4000 lb
Wet Weight*
6000 lb
Pressure Pot Volume
6.5 cubic feet
Water Tank Volume
100 gallon
Air Consumption
210 CFM

*Abrasive capacity and wet weight was found using 80 grit garnet. Using coarser media or less dense media will decrease weight.