Glass Beads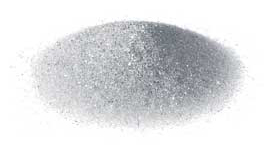 Applications
Finishing: Glass Bead blasting can be used on a wide range of materials including metal, glass, plastic and rubber. The smaller the glass spheres, the smoother the surface; larger spheres produce a more textured finish.
Cleaning: Glass Beads remove/clean foreign substances from the surface without a dimensional change to the surface. A wide range of bead sizes is available.
Deburring: Glass Bead blasting removes burrs, feathered edges, from parts in a precision operation. Corners and edges must be deburred with precision to assemble and operate properly. Glass bead blasting guarantees that no base metal from the surface is removed.
Peening: Peening with Glass Beads is a low cost form of creating a uniform surface layer of compressed stress in alloy substances. Peening acts to combat stress cracks and corrosion which result in increasing the life of metal parts.
Sizes

#1 12-14
#2 14-20
#3 20-30
#4 30-40 (Extra Coarse)
#5 40-50
#6 50-80 (Coarse)
#7 60-80
#8 70-140 (Medium)
#9 80-120
#10 100-170 (Fine)
#11 120-200
#13 170-325
Packaging
Bags: 50lb
Pallet: 40 - 50lb bags