Plastic Media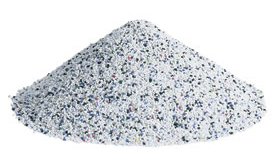 Plastic media is widely used in the aerospace and automotive industries to removecoatings without damaging the substrate. Plastic media blasting is a cost-effective alternative to chemical stripping since it is non-hazardous and recyclable.
General applications include removal of powder coatings; stripping aircraft and aerospace components; removal of primers and topcoats without harming the substrate; removal of coatings from vehicles and vehicle parts.
Sizes
12/16 (Extra Coarse/Coarse)
12/20 (Coarse)
20/30 (Medium)
20/40 (Medium/Fine)
40/60 (Fine)
Types
Type II: Urea-Most commonly used plastic media. Used on a variety of soft metals and steels. Used for removal of powder coatings, and the removal of paint and coatings from automobiles, trucks, trailers and marine vessels.
Type III: Melamine-Hardest and most aggressive plastic media. Removes rust and pitted corrosion. Used for more aggressive paint and coatings removal in the aircraft and automotive industry.
Type V: Acrylic-Most popular for use on thin aluminum parts. Less aggressive than Type II. Good for removing a top coat, cleaning soft and sensitive substrates. Widely used in aircraft iIndustry for coating removal.
Packaging
Drum: 275lb
Box or Pail: 55lb