Simpson Green Sand Equipment

The Simpson Group has a full range of continually advancing products for all areas of the sand preparation plant. Used individually or in combination, all of our products have been designed to provide a uniquely superior solution to a specific foundry requirement. Experience shows that optimization of foundry processes demands a close interaction between the machines, foundry operators and the suppliers of technology. To maximize the efficiency of the sand system, Simpson provides the ability to combine several machines into a comprehensive, integrated solution--all controlled by a centralized automation system.
---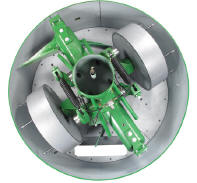 Simpson Mix-Muller® Batch Mixer
In small to medium-sized sand systems or difficult mixing applications, versatility is critical. The Mix-Muller has been carefully designed and proportioned to achieve maximum performance, versatility and energy efficiency in these types of applications.
Click here for more info on simpsongroup.com
---
Simpson+Hartley® Online Control & Automation System
Modern foundries worldwide demand continuous improvements in casting quality and process productivity as well as continuous reductions in process variability and costs. To achieve these goals, we've installed nearly 800 Simpson+Hartley brand mixer group control and automation systems all over the world, in all types and sizes of foundries and on nearly all types of mixers.
Click here for more info on simpsongroup.com
---
Speedmullor® Batch Mixer
In medium to large-sized sand systems, higher volumes of throughput demand greater productivity from the sand preparation plant. The Speedmullor is carefully designed and proportioned to achieve maximum mixing performance and energy efficiency while still providing some versatility in applications typical to these sizes of sand systems.
Click here for more info on simpsongroup.com
---
Simpson Multi-Cooler® Sand Cooler
As foundry sand preparation and molding plants become increasingly high-speed and quality-oriented, the control of return sand temperature is essential. the Simpson Multi-Cooler is specifically designed to provide the mixer group with sand that is cooled to temperatures that allow optimal mulling, premixed to eliminate return sand variations and with a moisture content controlled within tight tolerances. The result is optimal mulling and high-quality, profitable castings.
Click here for more info on simpsongroup.com
---
Simpson+Gerosa Lab Equipment: Sand Testing
The Simpson+Gerosa product line was introduced in 1993 on the belief that there is a demand for improved sand testing equipment. Conventional mechanical testing equipment is based on designs from 50 to 70 years ago and lacks the accuracy, repeatability and ease of use needed in modern foundries. Foundry laboratory equipment is an essential tool in the development and maintenance of quality and efficiency in a metalcasting plant large or small. Critical operational and quality control decisions in foundry operations are made every day based on the results of laboratory analysis of foundry processes and materials.
To achieve the highest casting quality levels and the lowest costs of operation modern foundries demand laboratory instrumentation that is accurate, easy to use, repeatable, easy to calibrate and dependable. Simpson+Gerosa is committed to the continuous development of sand testing instrumentation that has incorporated the latest advancements in electronics, sensors and process technology to achieve increased accuracy & repeatability, improved ease of use, low cost of operation and better test results. With better process data foundries will make better decisions and higher quality, more profitable castings.
The markets for Simpson+Gerosa products include the worldwide metalcasting industry for their clay or chemically bonded molding and/or core sand processes, suppliers of consumable products such as bentonite, raw & coated sand and chemical binders as well as casting industry research/educational institutions and consultants. So far, more than 250 leading metalcasting, consumable supplier and educational organizations in 30 countries have chosen advanced Simpson+Gerosa instrumentation for their quality control programs.
Technical papers related to sand testing authored by Simpson Group technical and engineering staff can be found here.