Crushed Glass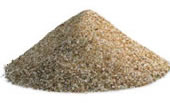 Crushed glass is manufactured from pre and post consumer recycled container glass. This is an environmentally friendly abrasive since it is non-toxic and intert, and contains no heavy metals. Using crushed glass can help to reduce particle embedment, increase productivity and reduce abrasives usage.
Features
Virtually no free silica
Angular to sub-angular
Recyclable
Low dust
Provides aggressive surface profiling and coating removal
Sizes:
10/20, 10/30, 20/40, 40/70, 40/80, 70, 80, 80-120
Extra Coarse : For heavy duty blasting. Removal of mill scale, heavy rust, thick coatings. Used for blasting concrete, structural, tanks, pipelines, etc.
Coarse : Uses are similar to the coarse with a slightly reduced mil profile. Good on heavy mill scale and rust.
Medium: For smoother finishes. Excellent for aluminum, stainless steel or fiberglass. Good on light mill scale or rust
Fine: For light duty blasting. Used for minimal etching on surfaces like wood, aluminum or fiberglass.
Ultra Fine: Excellent for delicate substrates that require minimal to no surface profile.