Ervin Steel Shot & Grit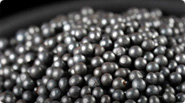 As a blast cleaning medium, shot, grit, or a mixture is used to remove various forms of surface contamination from a broad spectrum of steel or foundry products.
In a peening application, AMASTEEL shot is used to impart compressive strength to torque or load bearing metal parts, such as jet engine turbine blades, automotive springs, or heavy equipment crankshafts.
As a cutting medium, hard AMASTEEL shot and grit is used in gang-saws to process granite and marble blocks.
In addition, the sharp, angular form of grit makes it ideal foretching a textured surface on metal – thus enhancing its ability to bond with paint, enamel, rubber or other coatings.
Applications
Automotive
Aerospace
Agriculture
Construction
Foundry
Mining
Railroad
Shipyard
Stone Cutting
Office machines
Petrochemical
Other major industries
Packaging
Bags: 50lb
Bulk Bags: ~4000lb
Drum: ~2000lb
Closed Carton: ~2000lb in bags
S.A.E Specifications
Shot

SAE

Tolerances

Screen Opening (In - mm)

S780
All Pass No 7 Screen
85% Min on No 10 Screen
97% Min on No 12 Screen
.1110 - 2.80
.0787 - 2.00
.0661 - 1.70
S660
All Pass No 8 Screen
85% Min on No 12 Screen
97% Min on No 14 Screen
.0937 - 2.36
.0661 - 1.70
.0555 - 1.40
S550
All Pass No 10 Screen
85% Min on No 14 Screen
97% Min on No 16 Screen
.0787 - 2.00
.0555 - 1.40
.0469 - 1.18
S460
All Pass No 10 Screen
5% Max on No 12 Screen
85% Min on No 16 Screen
96% Min on No 18 Screen
.0787 - .280
.0661 - 1.70
.0469 - 1.16
.0394 - 1.00
S390
All Pass No 12 Screen
5% Max on No 14 Screen
85% Min on No 18 Screen
96% Min on No 20 Screen
.0661 - 1.70
.0555 - 1.40
.0394 - 1.00
.0331 - 0.85
S330
All Pass No 14 Screen
5% Max on No 16 Screen
85% Min on No 20 Screen
96% Min on No 25 Screen
.0555 - 1.40
.0469 - 1.18
.0331 - 0.85
.0278 - 0.71
S280
All Pass No 16 Screen
5% Max on No 18 Screen
85% Min on No 25 Screen
96% Min on No 30 Screen
.0469 - 1.18
.0394 - 1.00
.0278 - 0.71
.0234 - 0.60
S230
All Pass No 18 Screen
10% Max on No 20 Screen
85% Min on No 30 Screen
97% Min on No 25 Screen
.0394 - 1.00
.0331 - 0.85
.0234 - 0.60
.0197 - 0.50
S170
All Pass No 20 Screen
10% Max on NO 25 Screen
85% Min on No 40 Screen
97% Min on No 45 Screen
.0331 - 0.850
.0278 - 0.710
.0165 - 0.425
.0139 - 0.355
S110
All Pass No 30 Screen
10% Max on No 35 Screen
80% Min on No 50 Screen
90% Min on No 80 Screen
.0234 - 0.600
.0197 - 0.500
.0117 - 0.300
.0070 - 0.180
S70
All Pass No 40 Screen
10% Max on No 45 Screen
80% Min on No 80 Screen
90% Min on No 120 Screen
.0165 - 0.425
.0139 - 0.355
.0070 - 0.180
.0049 - 0.125
Grit

SAE

Tolerances

Screen Opening (In - mm)

G10
All Pass No 7 Screen
60% Min on No 10 Screen
90% Min on No 12 Screen
.1110 - 2.80
.0787 - 2.00
.0661 - 1.70
G12
All Pass No 8 Screen
80% Min on No 12 Screen
90 Min on No 14 Screen
.0937 - 2.36
.0661 - 1.70
.0555 - 1.40
G14
All Pass No 10 Screen
80% Min on No 14 Screen
90% Min on No 16 Screen
.0787 - 2.00
.0555 - 1.40
.0469 - 1.18
G16
All Pass No 12 Screen
75% Min on No 16Screen
85% Min on No 18 Screen
.0661 - 1.70
.0469 - 1.18
.0394 - 1.00
G18
All Pass No 14 Screen
75% Min on No 18 Screen
85% Min on NO 25 Screen
.0555 - 1.40
.0394 - 1.00
.0278 - 0.71
G25
All Pass No 16 Screen
70% Min on No 25 Screen
80% Min on NO 40 Screen
.0469 - 1.180
.0278 - 0.710
.0165 - 0.425
G40
All Pass No 18 Screen
70% Min on No 40 Screen
80% Min On No 50 Screen
.0394 - 1.00
.0165 - 0.425
.0117 - 0.300
G50
All Pass No 25 Screen
65% Min on No 50 Screen
75% Min on NO 80 Screen
.0278 - 0.71
.0117 - 0.30
.0070 - 0.18
G80
All Pass No 40 Screen
65% Min on No 80 Screen
75% Min on No 120 Screen
0.165 - 0.425
.0071 - 0.180
.0049 - 0.125
G120
All Pass No 50 Screen
60% Min on No 120 Screen
70% Min on No 200 Screen
.0117 - 0.300
.0049 - 0.125
.0029 - 0.075