Ervin Stainless Shot & Grit

As the leading international producer of cast steel abrasives, Ervin Industries' AMASTEEL trademark has become synonymous worldwide with product quality, reliability, and customer support. We believe that is why Ervin AMASTEEL outsells its nearest competitor, three to one.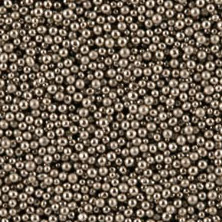 Advantage
AMACAST is suitable to replace many other abrasives when blasting non ferrous metals or surfaces when a high degree of corrosion resistance is needed.
Recyclability
Exceeding the life of aluminium oxide, glass beads, mineral abrasives, garnet or slag by nearly 1000 to 1, AMACAST can significantly reduce your raw material and disposal costs.
AMACAST is non-hazardous and contaminant free as received. Its use produces no free silica or associated respiratory and environmental hazards. Any metal dust created during use is insignificant, allowing for a virtually dust-free blasting environment.
Energy Transfer - Speed of Cleaning
Blast cleaning is an operation in which the work surface is pounded by successive impacts of flying abrasive particles. This impact energy of the abrasive is related to the mass and velocity of the particle being thrown. When the kinetic energy in a particle of abrasive is expended on the work surface, the contaminant is loosened and removed. Thus, the greater the impact being delivered per particle, the greater the speed of cleaning. AMACAST's greater mass / density delivers more power to the surface improving the cleaning rates and lowering the abrasive consumption costs.
Abrasive Work-Mix
An efficient abrasive work-mix contains a balanced distribution of large, medium and small particles. This distribution is constantly undergoing change because of abrasive deterioration caused by repeated impact with the work surface. Maintaining a proper balance can be difficult with short-lived abrasive because of its rapid breakdown and removal from the system. These fluctuations in the size distribution directly affect both surface finish and productivity.
AMACAST's superior durability provides a more consistent size distribution in the operating "work-mix" by remaining in the new condition long after other abrasives have fractured and downsized from blasting.
Product

Screen No

Mesh Opening

Nominal S.A.E.

Size Reference

Inch

Micron

ES-1200
All Pass
No 10
.0787
2000
S-550/S-460
5% Max
No 12
.0661
1700
90% Min
No 20
.0331
850
ES-750
All Pass
No 12
.0661
1700
SS-390/S-280/S-230
10% max
No 16
.0469
1180
95% Min
No 35
.0197
500
ES-600
All Pass
No 16
.0469
1180
S-230/S-170
10% max
No 20
.0331
850
95% Min
No 40
.0165
425
ES-450
All Pass
No 20
.0331
850
S-170
5% Max
No 25
.0278
710
95% Min
No 50
.0117
300
ES-300
All Pass
No 30
.0234
600
S-110
5% Max
No 35
.0197
500
85% Min
No 70
.0083
212

ES-180

All Pass
No 40
.0165
425
S-70
10% Max
No 50
.0117
300
90% Min
No 140
.0041
106