Clemco 2-Braid Blast Hose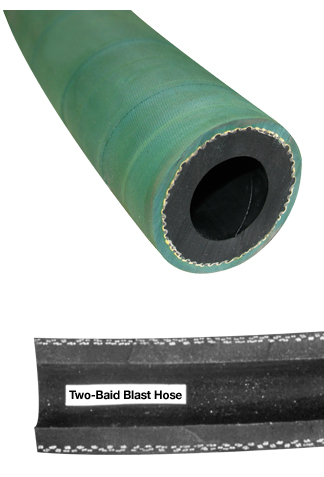 Two-braid hose is used in industrial settings where external scuffing is expected. It can be used with all common blast media. Clemco 2-braid blast hose has a durable outer casing and is more flexible than 4-ply hose.
Advantages
More durable outer casing than Supahose
Inner tube wall of SBR rubber treated with static-dissipating compound, up to 5/16-inch thick depending upon hose size
Two-layer outer casing of cloth and rubber-impregnated fiber winding
Casing is pin-pricked to prevent formation of air pockets between layers
More flexible than 4-ply blast hose
Description of Operation
Clemco 2-braid blast hose accepts properly sized couplings and nozzle holders. The coupled hose can attach to any blast machine rated at up to 150 psi. Two-braid hose is widely used in shipyards and railyards because it stands up to external abrasions from being dragged about the blast site.
For applications where 2-braid blast hoses are used (for their more durable outer casing), a 10 to 15 foot length of Clemco Supa hose can be connected as the last section before the nozzle. This whip hose is easier for the operator to bend and manuever.
Standard 2-Braid Blast Hose
23750 1/2" ID x 1-3/16" OD x 25'
23751 1/2" ID x 1-3/16" OD x 50'
23752 3/4" ID x 1-1/2" OD x 25'
23753 3/4" ID x 1-1/2" OD x 50'
23754 1" ID x 1-7/8" OD x 25'
23755 1" ID x 1-7/8" OD x 50'
53756 1-1/4" ID x 2-3/32" OD x 50'
Blast Hose Safety Cables
15012 - For ½" ID hose
15013 - For ¾" to 1 ¼" ID hose