Wheelabrator Wheel Blast Systems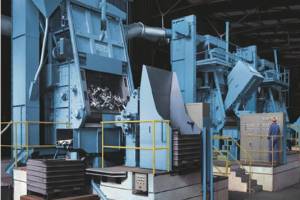 Wheelabrator offers the largest variety of wheelblast machines worldwide. More than 15000 active customers globally prove the ability of Wheelabrator to deliver the right solution.
A complete range of standard designs is available for batch or continuous/in-line processes, alternatively Wheelabrator can provide a custom-designed solution to fit your application. Whatever solution is appropriate for your needs and will bring you the best return on investment, Wheelabrator has the solution or the competence, know-how and skills to develop it.
With global engineering and production facilities, Wheelabrator is able to provide locally-built machines that serve your needs, your application, your specification and your budget.