Clemco Tungsten Carbide Lined Metal Jacketed Long & Short Venturi Nozzles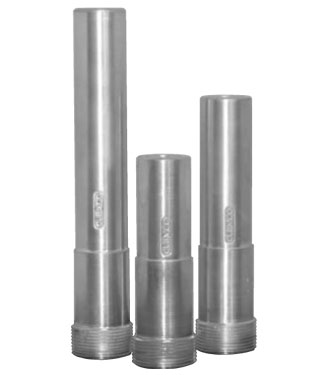 Short Venturi: CJD
Long Venturi: CSD, TXD, SDX, CXD
Advantages
Rugged and durable aluminum jacket.
Tungsten carbide is the most rugged and durable liner material and provides the best value.
Expected wear-life when blasting with expendable abrasives is approximately 300 hours.
TXD nozzles with large contractor threads eliminate galling or binding of the threads in the holder
CXD nozzles provide smooth transition from 1-1/4-inch blast hose to the 1-1/4-inch entry for users who prefer 1-1/4-inch fine thread nozzles.
Specifications
Nozzle Model
CJD
CSD
CXD
TXD
SDX
Mounting Thread
1¼"
1¼"
Contractor
*Flanged
Entry Diameter
1"
1¼"
1¼"
Liner
Tungsten Carbide
Lier Style
Venturi
Jacket Material
Aluminum
*Flanged nozzle includes quick-coupling nozzle holder
Nozzle Stock Number, Dimensions and Weights



Model No.
Stock No.
Orfice ID
Length
Net Wt.
Pkg'd Wt.
Fine 1-1/4" Thread
CJD-3
1378
3/16"
3-1/8"
.70 lb
1 lb
CJD-4
1379
1/4"
3-1/8"
.70 lb
1 lb
CJD-5
1380
5/16"
3-1/8"
.70 lb
1 lb
CJD-6
1381
3/8"
3-1/8"
.80 lb
1 lb
CJD-7
1382
7/16"
3-1/8"
.80 lb
1 lb
CJD-8
1383
1/2"
3-1/8"
.90 lb
1 lb
Fine 1-1/4" Thread
CSD-3
1384
3/16"
4-1/4"
1.1 lb
1.5 lb
CSD-4
1385
1/4"
5-3/8"
1.3 lb
1.5 lb
CSD-5
1386
5/16"
5-3/4"
1.3 lb
1.5 lb
CSD-6
1387
3/8"
6-3/4"
1.6 lb
2 lb
CSD-7
1388
7/16"
8"
2 lb
2 lb
CSD-8
1389
1/2"
9"
2.4 lb
2.5 lb
Fine 1-1/4" Thread
CXD-6
23460
3/8"
6-3/4"
1.6 lb
2 lb
CXD-7
23461
7/16"
8"
2 lb
2 lb
CXD-8
23462
1/2"
9"
2.5 lb
2.5 lb
Contractor Thread
TXD-6
99147
3/8"
6-3/4"
1.9 lb
2 lb
TXD-7
99148
7/16"
8"
2 lb
2.5 lb
TXD-8
99149
1/2"
9-9/16"
2 lb
2.5 lb
Flanged
SDX-6
1394
3/8"
6-3/4"
2.2 lb
3 lb
SDX-7
1395
7/16"
8-3/4"
2.2 lb
3 lb
SDX-8
1396
1/2"
9-3/16"
2.4 lb
3 lb
SDX-10
1397
5/8"
9-3/16"
2.8 lb
3.5 lb
SDX-12
1398
3/4"
9"
2.9 lb
3.5 lb