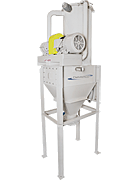 For light- to medium-duty material clean up, the DEMARCO® T1000 Series Stationary Industrial Vacuum line handles a wide variety of wet and dry applications. Equipped with hose sizes ranging from 2" to 3-1/2" and 15 to 30 HP drive packages, these industrial vacuums have pick-up capacities up to 8 tons per hour. High efficiency DEMARCO® MAXcartridge™ Filters enables this unit to operate 24/7. Discharge gate options can be configured for each application.
View more info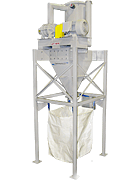 Designed for medium- to heavy-duty applications, the Stationary DEMARCO® Industrial Vacuum T2000 Series can handle wet and dry materials in a variety of indoor and outdoor environments. These stationary industrial vacuums are capable of vacuuming up 5 to 14 tons of material per hour, using hose sizes ranging from 3" to 5" ID. The T2000 series comes equipped with drive packages ranging from 25 to 50 HP and with a 15 to 40 cu ft. bottom dump hopper.
View more info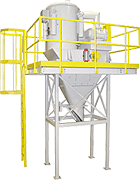 The DEMARCO® T4000 Series is the ultimate, high performance stationary industrial vacuum system available on the market. These industrial vacuums can pick up to 48 tons of material per hour, using hoses as large as 14" ID. Drive packages available in the T4000 Series range from 40 to 150+ HP.
View more info