Stabil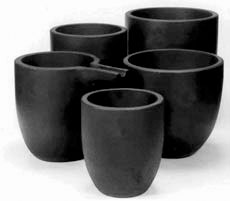 Noltina's Stabil crucibles are carbon-bonded silicon carbide crucibles, which are characterised by very good thermal conductivity and high oxidation resistance. Due to their carbon content, these SiC crucibles have excellent stability at high temperatures and are therefore particularly suitable for processes where the temperature is changing frequently and where high heating rates are utilized.
Applications
Noltina's Stabil crucibles are particularly suitable for processes with frequently changing temperatures and high heating rates. Stabil crucibles can be used for the holding of all non-ferrous alloys. They have a very high mechanical strength and a high refractoriness, making them especially suitable for melting heavy metal alloys. Additionally, they are resistant to chemical attack by fluxes. The standard Stabil crucibles are suitable for electric resistance heated and fuel fired furnaces for melting and holding with a melting temperature between 700°C and 1200°C. They perform well under difficult operating conditions. As a consequence of user-related innovative developments, optimised Stabil variants are available, especially for the higher temperature range up to 1400°C. They are particularly appropriate for melting copper and bronze alloys in furnaces with high power and high heating rates.
Stabil Typical Metal Casting Temperature
700 - 1200°C (1292 - 2192°F)
Performance Characteristics
Outstanding thermal shock resistance
Very good thermal conductivity
High oxidation resistance
Very high mechanical strength
Good resistance to chemical attack
Identification
Noltina's Stabil crucibles are coloured black and utilize the suffix C to denote the type.
Pattern Range
Noltina's Stabil crucibles are available in a wide range of sizes and shapes. Consult the product selector or contact us for a specific recommendation based on your requirements.
Quality
Noltina's Stabil crucibles are manufactured from premium grade raw materials under an ISO 9001:2008 quality management system.