Abrasive Blasters (Small Pots)
Schmidt® portable abrasive blasting systems are the workhorses of the abrasive airblast industry. These blasters are designed to provide the industry's lowest pressure drop - less than 1.5 psi and in some cases less than 1 psi - compared to as much as 10-14 psi in other systems on the market. It is important to note that for every drop of 1 psi at the nozzle, there is a corresponding loss of 1.5% in productivity. When you choose a Schmidt pot, you're already starting out ahead.

Schmidt small pots provide more value for contractors and industrial users, especially with expensive media and abrasive airblast labor that is harder to find.
Blaster Packages
Schmidt blasters come in three levels of packages - A, B or C, for added convenience. All packages start with the portable blaster with 150 psi (10.3 bar) rated vessel with 90° cone bottom, pneumatic remote controls, MV2 abrasive metering valve, ComboValve, VBS volumetric blowdown system, 55' twinline control hose and G2 deadman.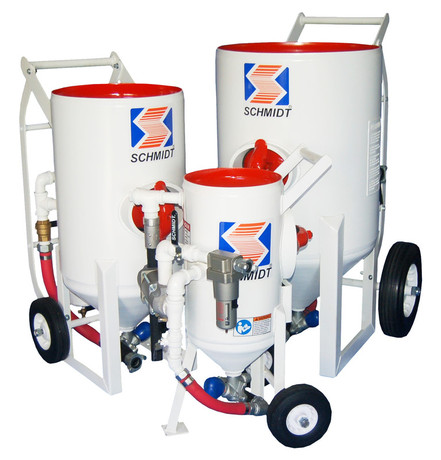 Package A
Blaster (as described above) + moisture separator.
Package B
Package A + 50' blast hose assembly and nozzle.
Package C
Package B + NOVA 2000 NIOSH-approved, type CE respirator with 50' air supply hose kit and airline filter.
---
Maximum working pressure: 125 psi (8.6 bar)
Piping size: 3/4"
Weight: 141 lbs/64 kg

Maximum working pressure: 150 psi (10.3 bar)
Piping size: 1"
Weight: 170 lbs/59 kg

Piping size: 1 ¼"
Weight: 240 lbs/108 kg

Piping size: 1 ½
Weight: 316lbs/143 kg