Excel & Himelt Crucibles

DESCRIPTION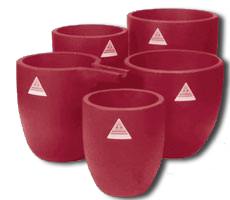 EXCEL and HIMELT are high quality carbon-bonded silicon carbide crucibles manufactured using the latest rollerforming techniques and are designed to cater for a range of non-ferrous melting applications.
APPLICATIONS
EXCEL: Intended for aluminium melting in oil-fired furnaces, melting copper-based alloys in gas and oil-fired furnaces, melting precious metals and non-ferrous alloys in low to medium frequency induction furnaces.
HIMELT: Provides enhanced performance in those applications where more arduous service conditions exist.
TYPICAL METAL CASTING TEMPERATURE
EXCEL: 850—1250ºC (1562—2280ºF)
HIMELT: 1000—1400ºC (1830—2550ºF)
PERFORMANCE CHARACTERISTICS
Fast melting speed through high consistent thermal conductivity
Excellent thermal shock resistance
High resistance to oxidation
Good erosion resistance
Good resistance to corrosive attack by chemical treatment agents


IDENTIFICATION
EXCEL crucibles are coloured dark red and utilise the code X. e.g. AX800.
HIMELT crucibles are bright red and utilise the code HM e.g. AHM800.
PATTERN RANGE
EXCEL and HIMELT crucibles are available in a comprehensive range of shapes and sizes to suit most end user requirements. Custom sizes can be supplied by special request. Heavy wall (HW) versions can be supplied for increased life in arduous applications and a selection of fixed pouring spouts with optimised profiles is offered where required.
EXCEL and HIMELT crucibles can be supplied with Morganite's unique PD coating system, which can assist with metal cleanliness and prevention of dross adhesion.
QUALITY
EXCEL and HIMELT crucibles are manufactured from premium grade raw materials under an ISO 9001:2000 quality management system.