Excel E Crucibles

DESCRIPTION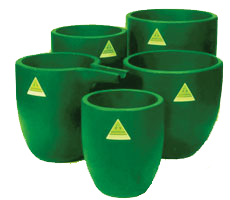 Excel E is a high quality carbon-bonded silicon carbide crucible, manufactured using the latest roller-forming techniques and incorporating a special multi-phase glaze protection system. This product range is designed for aluminium melting and holding applications.
APPLICATIONS
EXCEL E is used for melting, holding and melt/holding of aluminium alloys in electric resistance and gas-fired furnaces.
TYPICAL METAL CASTING TEMPERATURE
620 - 900°C (1148 - 1652°F)
PERFORMANCE CHARACTERISTICS
Fast melting speed through high consistent thermal conductivity
High resistance to oxidation
Excellent Thermal Shock resistance
Energy efficient
IDENTIFICATION
EXCEL E crucibles are coloured green and utilise the pattern coding X_E. e.g. BX401E
PATTERN RANGE
Excel E crucibles are available in a comprehensive range of shapes and sizes to suit most end user requirements. Custom sizes can be supplied by special request. Pyrometer hole in the wall and pyrometer pocket configurations are available to facilitate accurate measurement of metal temperature. A selection of fixed pouring spouts with optimised profiles is offered where required for tilting furnace applications. Excel E crucibles can be supplied with MorganMMS' unique PD coating system, which can assist with metal cleanliness and prevention of dross adhesion.
QUALITY
EXCEL E crucibles are manufactured from premium grade raw materials under an ISO 9001:2008 quality management system.