Cut-Off Wheels - Small Diameter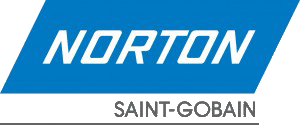 Small Diameter Reinforced Cut-off Wheels are 1-1/2" – 6" in diameter, and are for use on all popular electric and air horizontal/straight shaft portable grinders for fast cutting off and slotting of all types of metals.
These reinforced cut-off wheels contain strengthening fabric or filament throughout the entire diameter of the wheel. A reinforced cut-off wheel is required on any operation where the grinder is hand-guided (portable) or where the work is not securely clamped.
NorZon Plus
NorZon Plus Reinforced Cut-off Wheels are made with patented Norton SG (ceramic alumina) and NorZon (zirconia alumina) grain combination, for the fastest initial cut of any wheel. Choose these Norton cut-off wheels for the highest productivity.

BlueFire
New zirconia grain in Norton BlueFire Reinforced Cut-Off Wheels efficiently cuts a variety of material from stainless and carbon steels, to alloys and gray iron – with up to 20% increase in life over former zirconia wheels.

Engineered
Choose Norton Small Diameter Engineered Reinforced Cut-off Wheels for precise, thin cuts.

Gemini
Made with aluminum oxide abrasive grain, Norton Gemini Reinforced Cut-off Wheels are competitively priced, all purpose wheels.


Metal
The starting specification when good performance at a low initial price is the primary purchasing criterion.