Clemco Wetblast FLEX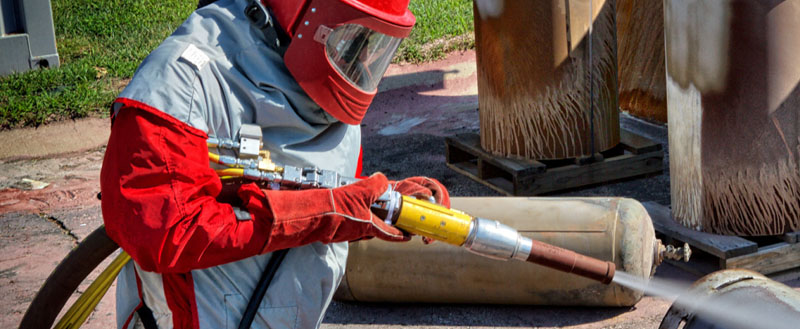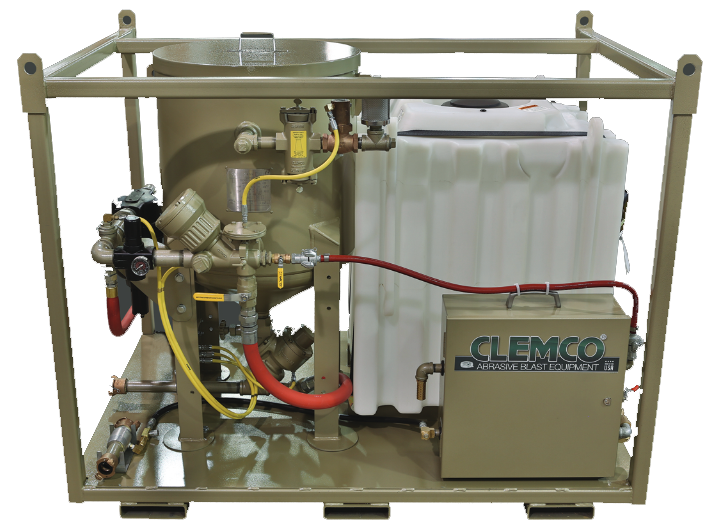 All-in-one wetblasting system includes 6 ft³ blast machine, 120 gallon water storage tank, and a pump module mounted on a portable framed platform
The FLEX is engineered to provide high-performance blasting with maxiumum dust suppression.
SKID MOUNTED, all-in-one convenient design with fork lift pockets and lifting eyes.
WATER SOURCE, on board water tank or municipal water source - add rust inhibitor if needed.
ABRASIVE CUT OFF SWITCH, with injector and ACS at the nozzle, you can control wash down and surface blow off without a trip to the blast machine
NO POT TENDER NEEDED, with the injector adaptor and ACS mounted at the nozzle, there's no need for a pot tender.
FLEX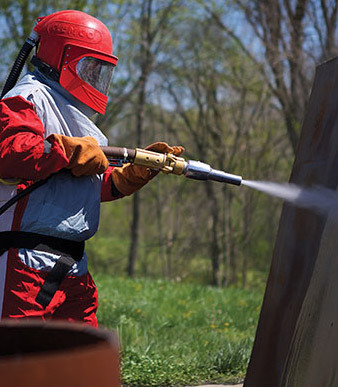 Bast Unit
6ft³ Blast Machine with Pneumatic Remotes and 50 ft Control Line
120 Gallon Water Tank
Wetblast Injector™ Pump Module
Base-Mount Wetblast Injector™
Standard Wetblast Injector™ with 50' Hose
Abrasive Cut-off Switch
Blast Machine Screen & Cover
1 ½" Pressure Regulator & Air Filter
Package
Includes Base Unit
50' Coupled Supa Hose
7/16" Long-Venturi Nozzle

Apollo 600HP DLX with

Clem-Cool Air Conditioner
CPF-20 (installed on skid)
Specifications
FLEX Base Units
The Wetblast FLEX has an operational pressure range of 50 to 120 psi. A low pressure model, the FLEX LP is also available. It features an extended blasting pressure range of 5 to 120 psi. LP units allow frequent start/stop, maintaining lower blast pressure.
All base units come with two injector assemblies (either 1¼" fine thread or 50mm Contractor thread), one that can be located at the metering valve an alternate that can be located at the nozzle. Customers choose which one to install depending upon where they wish to locate the operator controls for water flow and abrasive on/off.
| | |
| --- | --- |
| Blast Machine | Model 2448, 6 CF capacity, with 1¼" piping, built to ASME-code, National Board approved, rated 150 psi maximum working-pressure |
| Remote Controls | Pneumatic-type: Millennium Inlet Valve, TLR Outlet Valve, RLX Control Handle, Abrasive Cut-off, 52 ft twin-line hose, 52 ft ACS hose |
| Metering Valve | AQV AutoQuantum |
| WetBlast Injector Pump Module | See specification of Wetblast Injector Pump Assembly |
| Pipe Injector Assembly | 1¼" fine thread x 1" entry or Contractor thread 50 mm x 1¼" entry, and 52 feet water hose |
| Water Storage Tank | 120 Gallon Capacity |
| Base Unit Accessories | 24" diam. Screen, 24" diam. Cover, 1½" Pressure Regulator, 1½" Air Filter, Safety Cable |
| Nozzle Injector Assembly | 1¼" fine thread x 1" entry or Contractor thread 50 mm x 1¼" entry |
| Nozzle | Not included with Base Units; order separately or order a FLEX package |
Flex Packages
Packages include FLEX Base Unit plus 50ft x 1¼" ID Supa™ hose fitted with nylon holder and nylon coupling, 7/16"-orifice silicon-carbide-lined rubber-jacketed nozzle, Apollo 600 HP DLX NIOSH-approved supplied-air respirator, ClemCool™ air conditioner, CPF-20 breathing-air filter, 50 ft respirator hose, Apollo 600 outer lenses (pk of 25), Apollo 600 intermediate lenses (pk of 5), 1 pair leather gloves, abrasive-trap screens (6), coupling gaskets (pk of 10), nozzle washers (pk of 10), nylon ties (8).
Description
Stock Nos
Stock Nos

FLEX Base Units

With choice of nozzle injector assembly

Nozzle Thread
1¼" Fine
1" Entry
Nozzle Thread
Contractor 50mm
1¼ Entry
FLEX 2448 Base Unit


Pressure range 50-120 psi

28436
28434
LP FLEX 2448 Base Unit


Pressure range 5-120 psi

28633
28632
Shipping Weight
1500 lbs
1500 lbs
Shipping Dimensions
68"L x 46" W x 52" H
Stock Nos
Stock Nos

FLEX Packages

With choice of nozzle injector assembly

Nozzle Thread




1

¼" Fine




1" Entry

Nozzle Thread




Contractor 50mm




1

¼ Entry

FLEX 2448 Base Unit


Pressure range from 50-120 psi

28437
28435
LP FLEX 2448 Base Unit


Pressure range from 5-120 psi

28635
28634
Shipping Weight
1575 lbs
1575 lbs
Shipping Dimensions

68"L x 46" W x 52" H