Clemco Beacon LED Blast Light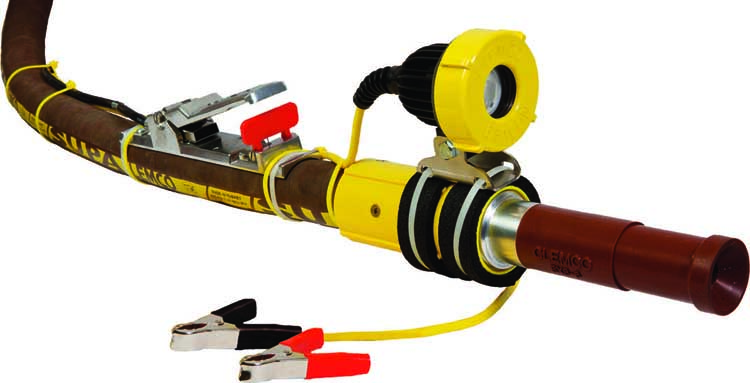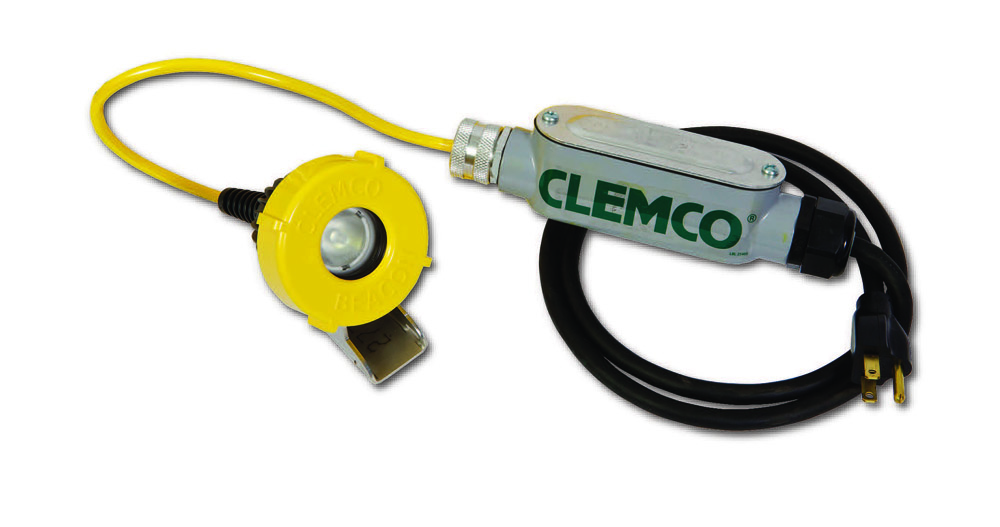 The Clemco Beacon blast light is a powerful 860-lumen LED light source to illuminate the work surface. Four assemblies are available: 12-volt DC and 120-volt AC models with either 50 ft or 100 ft of power cord.
Advantages
Illuminated target surface improves blast operator productivity
Extremely bright focused LED beam provides 6000k color temperature (similar to daylight on a sunny day)
Unit is compact, lightweight, and rugged—perfect for brutal abrasive blast environments
Mounts to nozzle holder or blast hose
Quick-change twist-lock lens retainer allows easy removal and replacement of the Pyrex® lens
Features
Beam capable of penetrating up to 280 feet
Ultra-compact size at just 2-7/8 " OD x 4" H x 3" D
Encased in durable, lightweight aluminum housing with abrasive resistant nylon lens adaptor
Integrated pulse width modulation controller provides protection against voltage spikes and maximizes the light's duty cycle in terms of heat management
Cree XLamp MC-E® LED is shock- and vibration-resistant
Easily replaceable Pyrex® lens
Requirements for Operation
120-volt AC or 12-volt DC power source.
Description of Operation
The light module mounts either to the blast nozzle holder or to the blast hose, secured with cable ties. The rugged, cut resistant 18-gauge cable is tied along the length of the blast hose. A quick-change assembly allows easy lens replacement when abrasive rebound frosts the durable Pyrex® lens.
Specifications
Lamp Type:
Cree XLamp MC-E® LED
Lumens (raw):
860
Dimensions:
2-7/8" OD x 4" H x 3" D
Watts:
10
LED Drive %:
90%
Voltage:
12-volt DC or 120-volt AC
Beam spread:
20-degrees spot
Amps:
1 amp
LED Light Color:
6000k
LED Life Expectancy:
50,000 hours
Optics Efficiency:
90%
Materials:
aluminum housing, polycarbonate inner lens,
borosilicate outer lens
Weight/light module:
0.8 lbs

Parts
No

Part No

Description

1
27748
Retainer, outer lens
2
27751
Bracket, mounting
3
28161
Mount, light
4
28162
Screw, light mount
5
28160
Diffuser
6
03055
Screw, ¼-NC x 1.5" hex head cap
7
03112
Nut, ¼-NC lock
8
02395
Ties, 14.5" long, nylon (pack of 2)
9
00187
Gasket, 5/32" x ¾" adhesive backed, by foot, specify length
10
27758
*Driver, 120-V to 12-V LED
11
27756
*Strain relief, ¾-NPT x ¼" cable
12
27757
*Strain relief, ¾-NPT x 3/8" to 5/8" cable
13
27766
*Cord, 4-ft 120-V Power
14
27763
**Clamp set, 12 volt battery
15
28163
Service kit, glass outer lens

[o-ring (1), glass lens(3)]

16
28164
Service kit, poly inner lens

[backplate screws (4), backplate (2 halves), retainer gasket (1), molded gasket (1), poly lens (2), backplate nuts (4)]

* Used only with 120-volt lights
** Used only with 12-volt lights