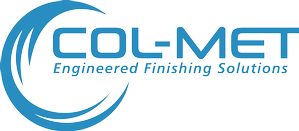 Col-Met is an industry leading engineering company that designs paint booths with a wide range of applications for a diverse and growing market place. Their booth configurations are all optimized to deliver a clean, safe and more productive working environment.

Col-Met manufactures and produces a diverse and comprehensive line of industrial finishing equipment to meet the growing demands of the market place. Our designs are well suited for batch and automated production systems and are built to last with premium components and performance boosting configurations. Col-Met's paint booths are fully customizable and can be designed and built in a variety of sizes and configurations to meet your specific needs.
---

Col-Met applies practical engineering and innovative paint technology to design and manufacture industry leading automotive paint booths. Our high performance booths offer your shop or facility an easy to install, efficient and effective solution regardless of whether you're using a solvent or water-based coating.



---
The engineering team at Col-Met has enhanced the design of our large size spray booths for vehicle, large equipment, and other high-capacity industrial finishing applications. By using structural steel for every 10 feet of length as well as 14-gauge stiffening panels, we have strengthened the booth integrity while providing efficient space to accommodate larger vehicles. Our truck and large equipment booths feature full illumination and exceptional ventilation for a professional finish every time.